I spent the first week of August up in Dundee. Despite being haunted even now by the city's terrifying statues of the Bash Street Kids, I had a great time—thinking, learning, and talking about games.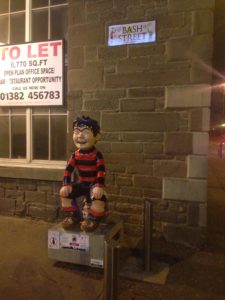 The First Joint International Conference of the Digital Games Research Association (DiGRA) and the Foundations of Digital Games (FDG) (aka DiGRA-FDG) was an academic conference, but one that was pleasantly welcoming to a curious, non-academic interloper.
In the vague hope that it might be useful for those not in attendance, I Tweeted almost non-stop on the #digrafdg and #pwh2016 hashtags with a lot of pictures; I've lumped these into Storify, which you can find below all this text.
It'd take another week to write up everything I enjoyed at DiGRA-FDG, so I'll highlight just a few of my favourite sessions here:
Game Design Adaptation Strategies for Literary and Classical Texts
Sam Roberts (University of Southern California, USA), James Cox (University of Southern California, USA), Tracy Fullerton (University of Southern California, USA)
An interesting look at games inspired by literature, in particular Walden, A Game (based on Henry David Thoreau's work) and An Occurrence at Owl Creek Bridge (based on the eponymous short story).
I also learnt about Brechtian Fabel-ing as a useful tool for figuring out what's important to you in a narrative.
Ludic Impulses of the Cartographical
Alex Gekker (Utrecht University, Netherlands), Chris Perkins (University of Manchester, UK), Sybille Lammes (University of Warwick, UK), Sam Hind (University of Warwick, UK), Pablo Abend (Universität zu Köln, Germany)
I love maps, so was all over this. Alex Gekker's talk on how maps affect gameplay and vice versa was particularly interesting, as were the observations on the convergence of games and maps in things like Google StreetView, the notion of hand-drawn maps encompassing experiences as well as space, and the aspect of games such as Far Cry 4 where you have to explore the map to win.
Making the Familiar Unfamiliar: Techniques for Creating Poetic Gameplay
Alex Mitchell (Department of Communications and New Media, National University of Singapore, Singapore)
This exploration of the game Thirty Flights of Loving and the way it utilises techniques more common in film was unexpectedly fascinating. I've heard plenty about interactive documentaries—films approaching games—at other events, but haven't seen a game approaching film in quite the same way, nor considered the effect on the player of using flashbacks and suchlike in an interactive piece. Great stuff.
First-Person Walkers: Understanding the Walker Experience through Four Design Themes / Walking Simulators: The Digitisation of an Aesthetic Practice
Alexander Muscat (RMIT University, Australia) / Rosa Carbo-Mascarell (Brunel University London, UK)
These two talks on walking simulators exploration games were interesting and provoked a rather heated audience debate regarding the term 'walking simulator' and the nature of this fairly new genre, which led to this blog post from me.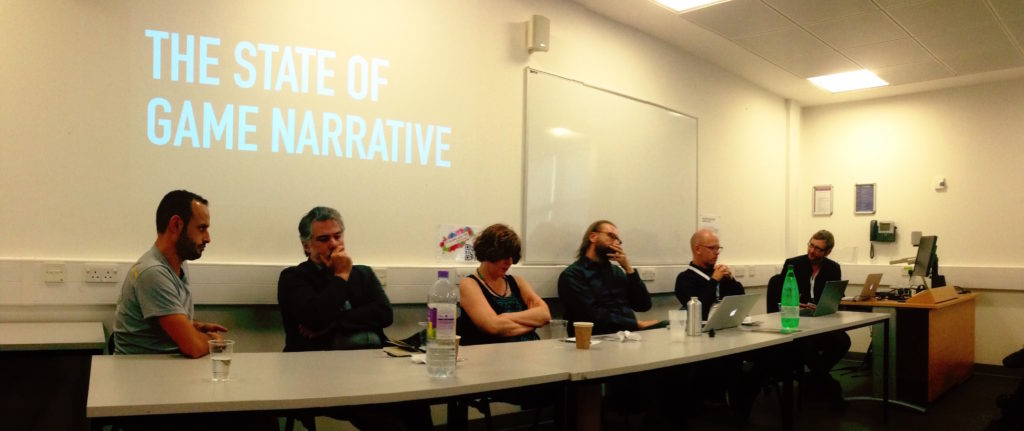 "Speaking intelligently?" What do we understand about narratives in video games (and what not)?
Hartmut Koenitz (University of Georgia, USA), Mads Haahr (Trinity College Dublin, Ireland), Celia Pearce (Northeastern University, USA), Frank Lantz (New York University, USA), Jesper Juul (The Royal Danish Academy of Fine Arts, Denmark), Gordon Calleja (University of Malta, Malta)
This all-star panel on games narrative "aka the annual survivors' meeting of the ludology/narratology debate" was framed as a discussion around The Beginner's Guide and asked why people found it so challenging to discuss, and did indeed feature several jokes about said 'Narratology vs. Ludology' debate. There were questions of agency, the author's relationship with the player, and literacy tools.
Game Preservation within a Dutch Audiovisual Heritage Institution
René Glas (Utrecht University, Netherlands), Jasper van Vught (Utrecht University, Netherlands), Jesse de Vos (Netherlands Institute for Sound and Vision, Netherlands)
This talk gave a fascinating overview of Dutch efforts to preserve Dutch games (and define what a 'Dutch' game is). They may have a basement full of hardware, but they are also focussing on emulators. They're also inviting people into the Institution to record Let's Plays of games, including heritage titles, as they believe the act of playing of the games is also worth preserving and can be a useful paratext, providing context for the game. I'm inclined to agree, and think their work may be extremely useful for organisations aiming to preserve games in the UK.
An Impression of Home: Player Nostalgia and the Impulse to Explore Game Worlds
Robin J. S. Sloan (Abertay University, UK)
Sloan's examples of nostalgia in games (and primarily exploration games) and thoughts on the psychology of nostalgia creates curiosity was intriguing. Period set-pieces aren't required for nostalgia, he argues, but things like loneliness, remembrance, and relationships; this results in attachment, trust, and exploration. I was left wondering if this is a key component of Pokémon Go as a social phenomenon.
Closing Keynote: "Fixing the pipeline: the future of the UK games industry"
Jo Twist, CEO, Ukie
I was quite excited for Twist's closing keynote; I'd last seen her speak absolutely ages ago at FutureEverything in 2012 but remembered that talk to be quite inspiring. I'm pleased to report that this keynote was also excellent. Twist powered through an overview of the state of the UK games industry and gave us a preview of Ukie's upcoming interactive map of it (which looks very interesting indeed). Two particular points that stood out to me were her comments on improving education about games development ("Parents said 'Maths & art?! What on earth will you do with that?'") and the perception of games in the arts ("It frustrates me that games aren't commonly viewed in the same vein as film and TV.").

The former of these hits quite close to home, as it was only last year that I realised making games is something I can actually do if I want. That you could have a career in games development wasn't something I was even aware of leaving school ten years ago—hell, my friends had to fight to be allowed to do Computer Science at AS-level, which was as close as we were going to get. And having spoken to young women at my school's careers evenings in the last couple of years, I'm not sure that's changed enough. It's been depressing to talk to 'geeky' young ladies who have no idea that their hobbies, their passions, can be translated into fulfilling careers.
Twist's second point, too, is bang on the money. Games are art, as are the parts that comprise them. If you're not convinced then I suggest you go watch Dear Esther live at the Barbican. But not everyone sees them this way of course—many still think of games as all being bland, low-brow shooters, a million miles away from 'cultured' films and classical music. It is frustrating, especially when it manifests institutionally—the BFI, for example, has money to fund films, but not games. And where does that leave things like interactive documentaries, anyway?
Anyway—back on topic—I found Twist's talk provoking in a good way. It reminded me that I want to help effect change in these areas and left me fired up to do more work with games in general.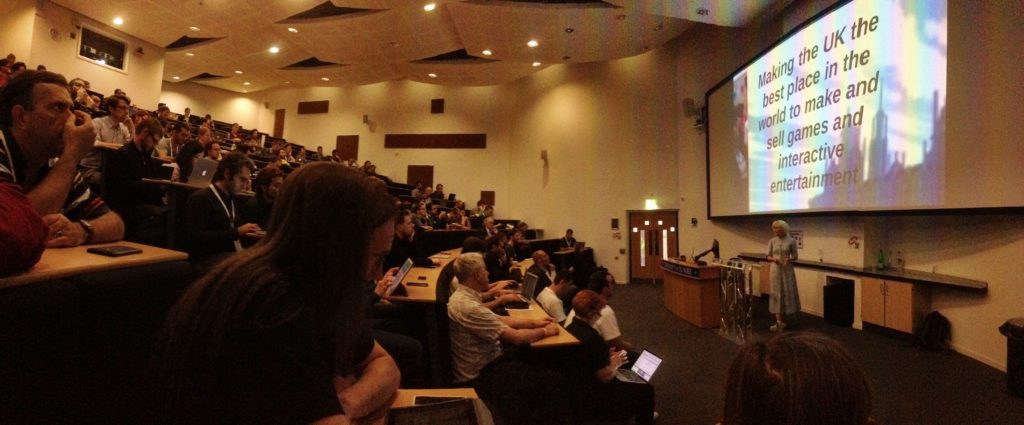 All in all, I had a great time at DiGRA-FDG. It was brilliant to meet so many brilliant people with similar interests and to learn so much. Thanks to all the attendees who made me feel very welcome, even though I'm not an academic. I'm not sure if I'll make next year's conference, what with it being in Melbourne, but I'm glad I made this one.
---
Storify: